News from tourist information center
Commemorative lecture "Shintaro Ishihara and Yujiro exhibition"…Municipal Otaru Literature Museum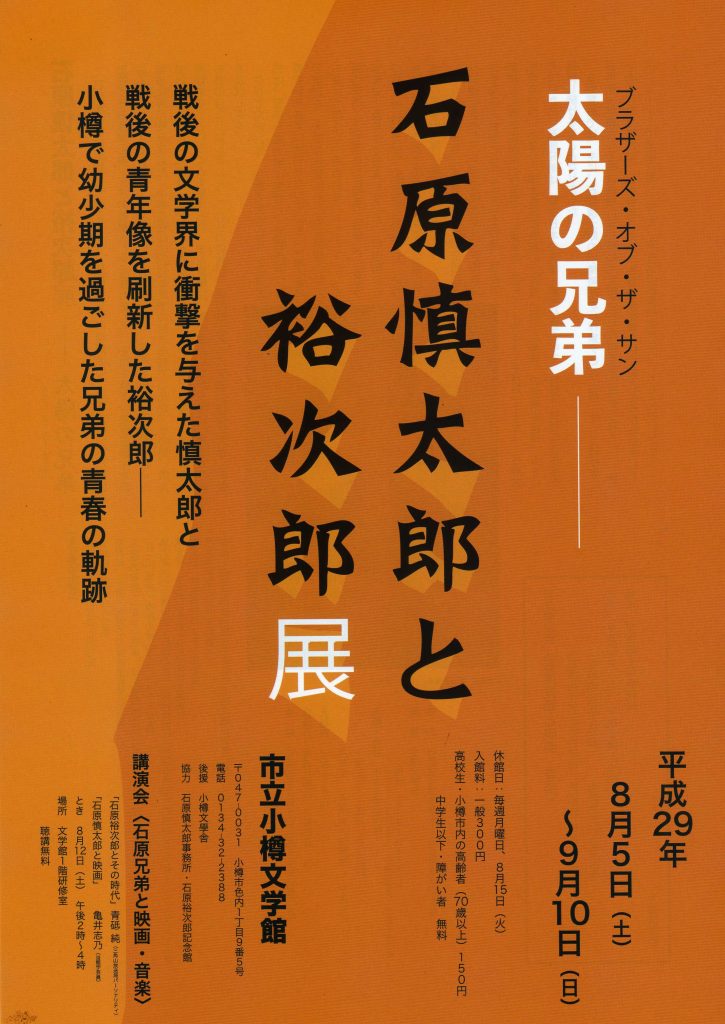 2017.08.12

◇◆◇Commemorative lecture "Ishihara brothers and movie, music"◇◆◇
Saturday, August 12 from 2:00 p.m. to 4:00
Place: Literature Museum the first floor training room
Attendance for free
About the times when Shintaro Ishihara, Yujiro brothers and they played an active part, we look back through movie and song mainly.
●Yujiro Ishihara and the time
Lecturer: Aoto pure he (triangle mountain broadcasting station personality)
●
Shintaro Ishihara and movie
Lecturer: Shino Kamei (Otaru Literature Museum curator)
●●●○○●●●○○●●●○○●●●○○●●●○○●●●○○●●●○○●●●○○●●●○○●●●○○●●●○○●●●
◇◆◇Straight talk "also thanks to Yujiro" by classmate of Yujiro Ishihara◇◆◇
Saturday, August 26 from 2:00 p.m. to 4:00
Place: Literature Museum exhibition room
Admission charges required
Memory in the Otaru times of precious Ishihara brothers whom people knowing Shintaro, Yujiro directly recite!
Lecturer: Shoji Oishi, Yoshiaki Oshima
Municipal Otaru Literature Museum
Barrel city 1-9-5 in little love affair
TEL: 0134-32-2388
★ Look at facebook "OtaruStyle" with blog by all means.
Event, recommendated information of monthly event information
August
Old blog "Otaru tourist information center staff blog" 1
Old blog "Otaru tourist information center staff blog" 2
Old blog "Otaru tourist information center staff blog" 3
Staff Y