News from tourist information center
Using two pieces of mirrors, we make kaleidoscope looking like snowy crystal.



The making of kaleidoscope of snowy crystal



●Place: The first floor of the art museum meeting room
●The date and time: Saturday, January 13 From 13:30 to 15:00
●Object: More than primary schoolchild (less than third grader are accompanied by protector)
●Capacity: 15 (the first arrival)
●Material cost: 300 yen (the collection on that day)
※We reached capacity.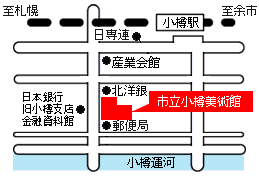 Otaru City Museum of Art
〒047-0031  
1-9-5, Ironai, Otaru-shi
TEL: 0134-34-0035
★ Look at facebook "OtaruStyle" with blog by all means.
Event, recommendated information of monthly event information
January
Old blog "Otaru tourist information center staff blog" 1
Old blog "Otaru tourist information center staff blog" 2
Old blog "Otaru tourist information center staff blog" 3
Staff Y