News from tourist information center
Otaru Book Art Week
Time: From Thursday, October 12 to 25th Wednesday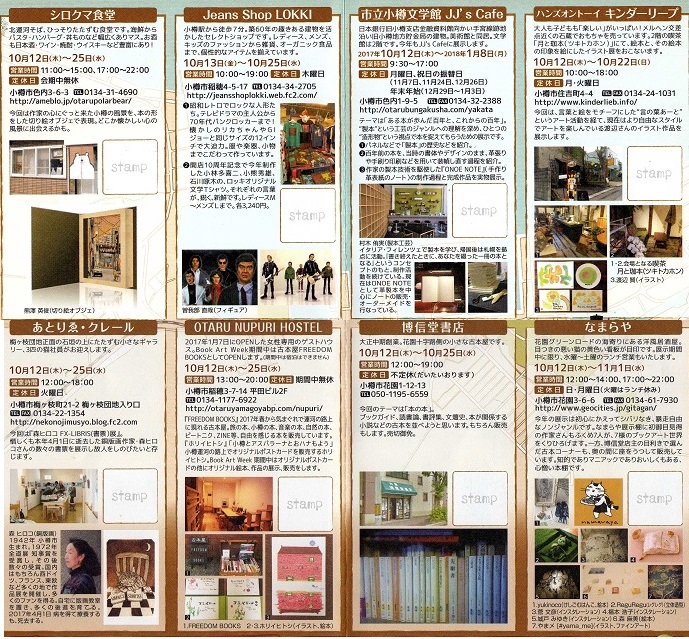 [venue]

​Oh, it is merit, Clair (21-2, Umegaecho) TEL: 0134-22-1354

​Municipal Otaru Literature Museum JJ' s Cafe (Ironai 1-9-5) TEL: 0134-32-2388

​White bear dining room (Ironai 3-6-3) TEL: 0134-31-4690

​Hironobu temple bookstore (1-12-13, Hanazono) TEL: 050-1195-6559

​namaraya (3-6-6, Hanazono) TEL: 0134-61-7930

​OTARU NUPURI HOSTEL (Otaru mountain hut sisters shop) (3-7-14, Inaho Hirata Building 2F) TEL: 0134-55-5870

​jinzushoppurokki (4-5-17, Inaho) TEL: 0134-34-2705

​hanzuontoikindaripu (Sumiyoshicho 4-4) TEL: 0134-24-1031

Book Art is art work of appearance of "book". Art objects of shape of picture book and book
Various art works are produced every writer.
Book type paperwork, various works including paper-cutting art object are displayed.
[stamp rally holding]
We present Otaru Book Art Week 2017 original masking tape
We get masking tape when we prepare all the stamps in each venue!
Reference
Otaru Book Art Week executive committee
namaraya…TEL: 0134-61-7930
★ Look at facebook "OtaruStyle" with blog by all means.
Event, recommendated information of monthly event information
October
Old blog "Otaru tourist information center staff blog" 1
Old blog "Otaru tourist information center staff blog" 2
Old blog "Otaru tourist information center staff blog" 3
Staff Y