News from tourist information center
"Plum wine Festival 2017"…Tanaka brewing carapace of a turtle storehouse, the head office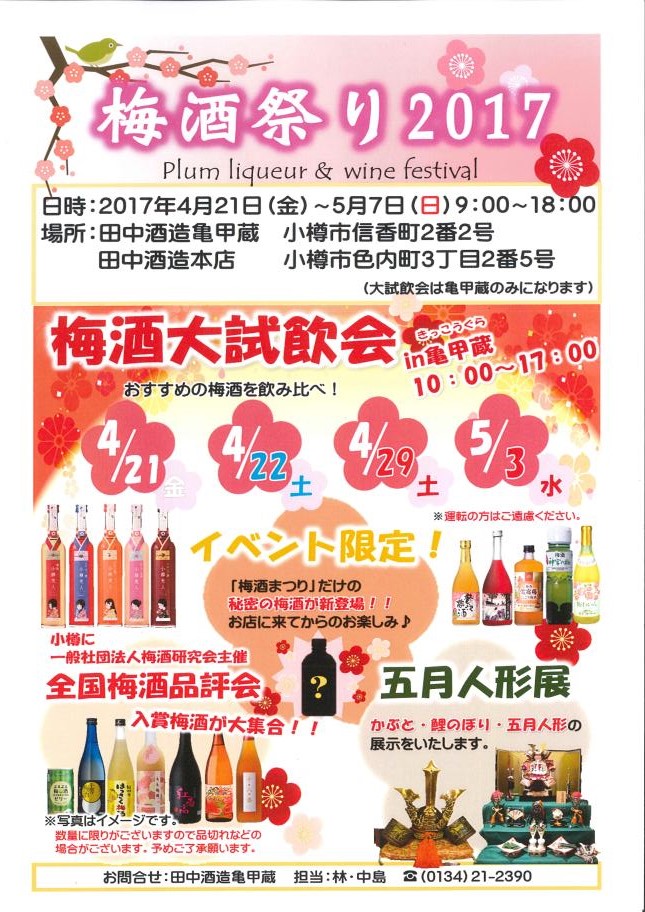 2017.04.16
Mainly on "plum wine" which is one of the liquor on behalf of Japan,
It is event that featured the theme of liquor, liqueur, wine of fruit.
Including brewing maker in way,
Of general plum wine national plum wine competitive show hosted by workshop
We perform sampling, sale of higher winning a prize liquor and sale of event-limited specially made plum wine.
In addition, it is carapace of a turtle storehouse on Wednesday (holiday) on Saturday, 29th (soil, celebration), May 3 for Friday, 22 days for 21 days,
Other than plum wine, we perform "great sampling party" of wine and liqueur.
How about finding plum wine which fitted preference at this opportunity?
Friday, April 21 - Sunday, May 7
From 9:00 to 18:00
Tanaka brewing carapace of a turtle storehouse (2-2, Nobukacho)
Tanaka brewing book Shop (Ironai 3-2-5)
---
"Plum wine size sampling society" holding (o: carapace of a turtle storehouse)

21st Friday, 22nd Saturday, 29th (soil, celebration), May 3 Wednesday (holiday)
From 10:00 to 17:00
---
Contact
Tanaka brewing carapace of a turtle storehouse
Telephone: 0134-21-2390
Event, recommendated information (the first half year) of monthly event information ⇒ April (the middle) (the latter period)
Old blog "Otaru tourist information center staff blog" 1
Old blog "Otaru tourist information center staff blog" 2
Old blog "Otaru tourist information center staff blog" 3
Staff K