Otaru art village
The history, culture, art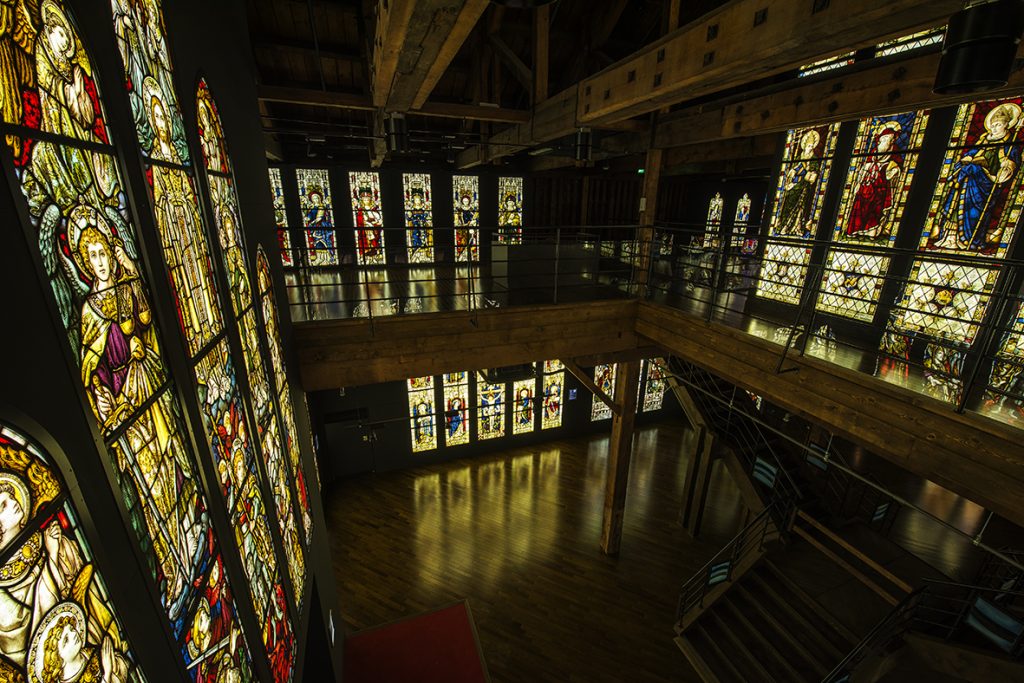 The beauty that light glistens with gathers.
Otaru art village is complex art space consisting of landmark architectures to project north Wall Street, prosperity of Otaru on. We gathered works of writer who represented approximately 140 points of stained glass and Emile Galle who displayed window of church of the U.K. in the early 20th century from the time and the end of 19th century of the same period when Otaru prospered, are nouveau including dome brothers in cathedral. In solemn light, we would appreciate your feeling flow when it is rich that only Otaru has beautifully.
[admission charges] ※Than September 1, 2017 grand opening
General 1,500 yen, student 1,100 yen
*Admission ticket common throughout Nitadori art museum, stained glass Museum, former Mitsui Bank Otaru Branch
※Free of charge lower than junior high student ※Museum shop is no charge for admission
※Person for free having disability certificate ※Caregiver for free of person having disability certificate (only as for one person)
Service information
Stained glass Museum (old Takahashi warehouse)

This building was built as warehouse to put soybean in.
We are repaired in 1989 and reproduce as store.
The front faces canal, and the back is built close to Denukikoji Street and is one of the buildings forming neighboring historic sceneries.
It is Western-style structure called queen post trass (anti-bunch roof truss) which roof truss builds beam double, and appoints two bunches as symmetry near the center of land beam.

Are nouveau glass building (old Arata firm)

This building was built as head office office of Arata firm.
They are reused in store, but the plaster and lighting equipment, sash of inner wall are conveying form at the time of the foundation now.
Stone warehouse is built along the Otaru Canal which linked the eaves and binds together in back old Takahashi warehouse and old communication electric facilities beach buildings and courtyard of the house on the left and makes unity of historic scenery.

[September 1, 2017 OPEN] Former Mitsui Bank Otaru Branch and Nitadori art museum (former Hokkaido Takushoku Bank Otaru Branch)

[former Mitsui Bank Otaru Branch]
We link five arches of piling-stones to outer wall of the front and are tasteful building appropriate for art museum of Renaissance style that made sculpture on the eaves.
Corridor surrounds the inside to blow, and design of gypsum sculpture is given glory to on ceiling.
It is the highest steel frame steel reinforced concrete construction that became guideline of earthquake-resistant structure after the Great Kanto Earthquake.

[Nitadori art museum (former Hokkaido Takushoku Bank Otaru Branch)]
This building is built in Otaru economy heyday and displays intersection of Wall Street where we came to with Mitsubishi, each the first bank Otaru branch
By great building construction to represent the way adding office for rent to bank at the time, six classic columns stand in bank hall along counter in colonnade to the second floor, and state that received light is the best part. It is main remains of an ancient structure in way of initial steel reinforced concrete construction architecture required. In 1996, we win Otaru-shi city appreciation.
Store information
Store name
Otaru art village
NITORI OTARU ART BASE
Address
〒047-0031
1-3-1, Ironai, Otaru-shi
Telephone
0134-31-1033
Business hours
[from May to October] from 9:30 to 17:00
[from November to April] from 10:00 to 16:00
※Entrance until 30 minutes before closing
Regular holiday
[from May to October] is without holiday
[from November to April] every Wednesday (the next day in the case of holiday)
※In the case of temporary closing and change of closed days by holding, display substitute of plan exhibition, there is.
Parking lot
Available (pay)
Access
Take to Hakodate Main Line Otaru from JR Sapporo Station, from JR Otaru Station getting off, the station square <approximately 3 minutes by taxi> <approximately 10 minutes on foot> <is sent to) "(9) Otaru Canal terminal" in front of [center bus A platform] (Taruishi building, and get off in ride, "Otaru art village" for bus approximately three minutes>

[about parking lot]
Guidance (16) of "Times Otaru Ironai fourth parking lot" discount service
・In museum shop more than 2,000 customer [one hour free of charge] of purchase
・Customer [two hours free of charge] of the ticket purchase common throughout 3 halls
Homepage
http://www.nitorihd.co.jp/otaru-art-base/
Wheelchair correspondence
Correspondence