Hotel noy hemp palms Otaru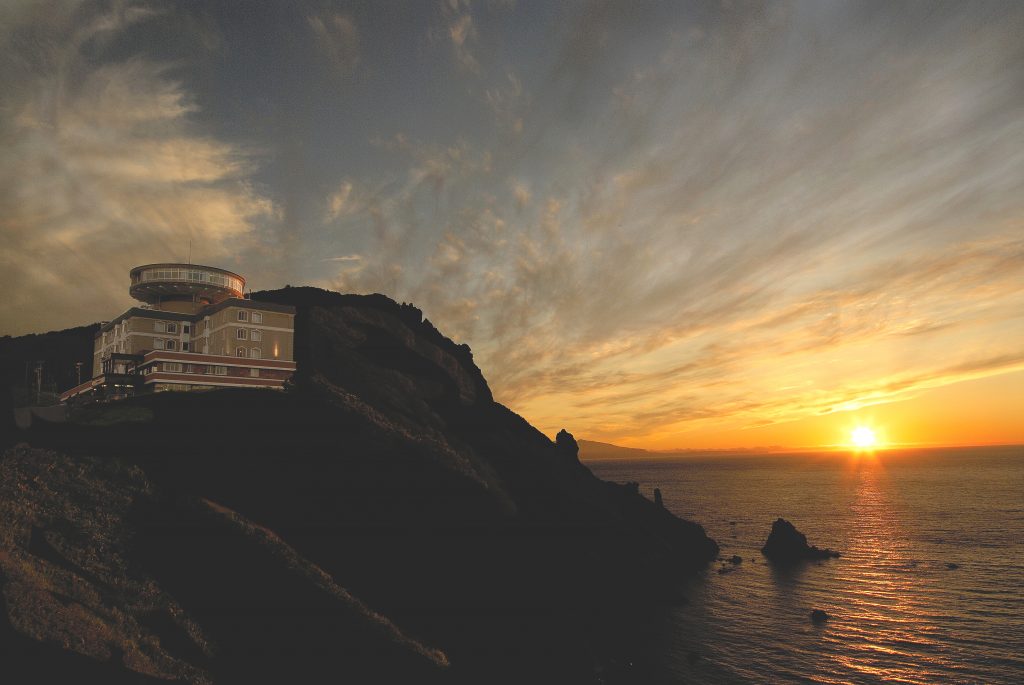 We are proud of facility
All rooms ocean view with open-air bath resort hotel among Nature in Niseko, Shakotan, Otaru Beach quasi-national park.
The appearance imitates castle of Vienna among the seas three directions, right "castle which floated in the heavens."
Vast panorama of the sea is the best part with extravagance such as resort in Europe near at hand.
Resort space of finest adult that hotel coexisted with this nature, and comfort was calculated exhaustively.
See the Sea of Japan of superb view from guest room open-air bath and can enjoy a time of the finest bathing.

Riches of the soil of seasonal ingredients, Hokkaido and Shiribeshi, Otaru French which was particular about the subject matter using seafood and "creation French" which even chopsticks which are not exaggeration can eat even if they say.
Impression that superb view of the Sea of Japan to look around from guest room weaves. It is also a luxurious time by hospitality of the staff.
CHEF' S hotel of general manager, total chef de cuisine Yoshiaki Kanezaki which provides three satisfaction to all of you

We unify the halls with structure with solid feeling that was conscious of Europe. We can taste atmosphere that is not different, and guest room locates tasteful furniture in it, and was brought on by European style in at every turn.
Because Mikata is surrounded by the seas, you can enjoy the magnificent Sea of Japan from guest room.
You can enjoy in the morning sun to go up in Ishikari Bay and setting sun setting in Shakotan in west guest room of popularity in summer from guest room in Cape Ofuyu, the east side of Rumoi in room overlooking the north side.
Please enjoy art that nature creates, momentary superb view to stop at of koku.
Accommodations information
Facility name
Hotel noy hemp palms Otaru
Hotel Neuschloss OTARU
Address
〒047-0047
3-282, Shukutsu, Otaru-shi
Telephone
0134-22-9111
Check-in
Check-out
Check-in 15:00
Check-out 11:00
Parking lot
Available (free)
Access
It is 15 minutes by car from JR Otaru Station
It is a 10-minute walk from public bus (central bus) Otaru aquarium stop
Free pickup and drop-off existence (reservation required system) between hotel - JR Otaru Station
Wi-Fi
Correspondence
Homepage
http://www.neuschloss.com/
Inquiry use
E-Mail address
info@neuschloss .com
Use of card
VISA
MASTER
JCB
AMEX
Silvery peak

Non-smoking, separation of smoking areas
Only in the non-smoking room
Wheelchair correspondence
Correspondence
Guide dog entering a shop
Correspondence
Foreign language correspondence
English

AED
There is setting
Elevator
There is setting