It is news to Otaru citizen, company
Otaru Tourism Association website banner ad offer
2018.01.30
Official homepage "otarupotaru" which Otaru Tourism Association runs
We raise Web banner ads (top page publication).
✿Otaru Tourism Association website
It is accessed for information of Otaru many times
Toward website, we renew site in March, 2017.
The number of the access increases smoothly afterwards.
We are in charge of the Otaru Tourism Association staff and website business
General information center Committee plays a key role,
The cause of cooperation of one loving Otaru, one with relationship in Otaru,
We send information of Otaru.
✿Main constitution contents
・Introduction of facility information to stop by to distribute genre
(we eat and enjoy and rotate and stay and buy)
・Event information introduction that we distributed in the four seasons
・News of sightseeing topic, tourist information center staff blog
・otarudoga, Otaru photo, Otaru column
・Map access information, tour guide with respect, and is helpful; information
✿Summary of insertion
The details such as web advertising rates, please identify this document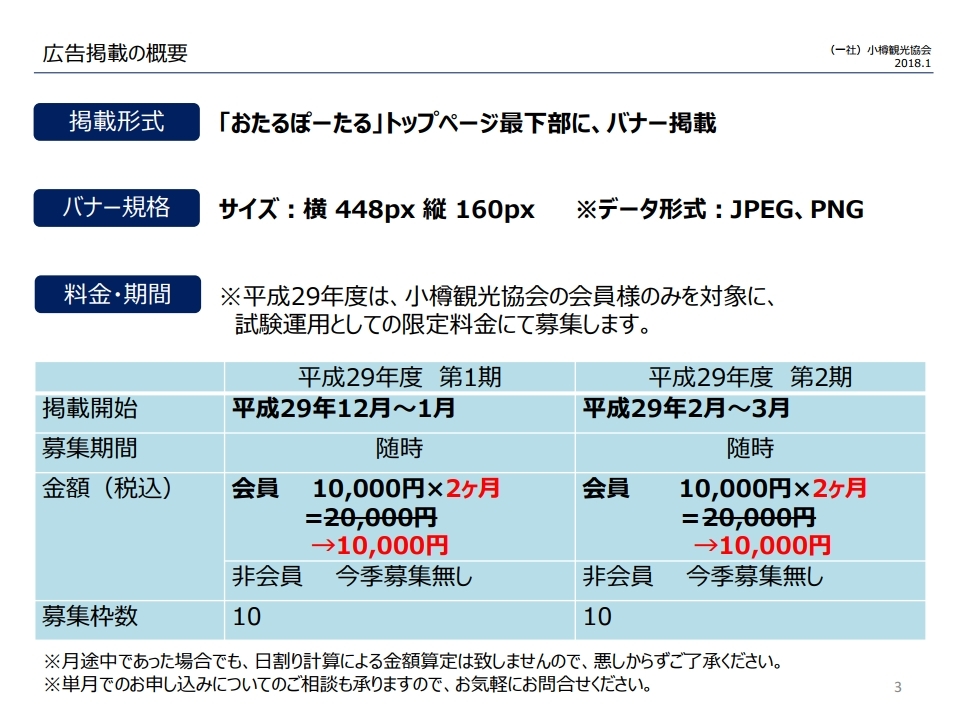 ✿Application, inquiry
①To the Otaru Tourism Association secretariat, I would like notification.
I send application later.
②Within one week before publication start, please submit banner image
Application: General Otaru Tourism Association charge: Nagaoka, Yamada
047-0007 4-3, Minatomachi, Otaru-shi
Telephone 0134-33-2510 FAX0134-23-0522 info2007 @ otaru.gr.jp