News from Tourism Association
(we update article released on December 28, 2016)
Student of Otaru commercial high school produced "sushi trivia".
It is two of Ohashi and Hayasaka (third grader) of English club to have made.
We gather topics that are not known unexpectedly to be helpful when overseas customer uses sushi bar,
When shop could relieve that customer was in trouble, design since second grader came true.
・How to use chopsticks when we eat sushi
・Wasabi (there is between the material and vinegared sushi rice)
・Soy sauce (soy sauce plate does not need much soy sauce. Appropriate amount to enjoy sushi)
・Please have with favorite turn
・Please have one on bowl only toward hot water
・Miso soup coming out is included in dishes, but another helping is charged first.
・Please do not stir rice served in a bowl. There is rice under the ingredients properly
・Please try giant clam if you come to Otaru
As for each data made at postcard size having you use only necessary page,
We print at A4 size and can put in to menu and can use.
Like lower image, form to put in the album, and to provide as reading is convenient.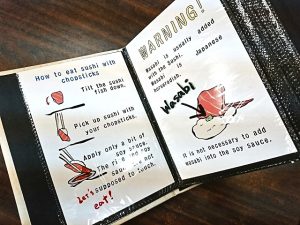 Anyone can download data from this.
Please inflect!