It is news to Otaru citizen, company
In anyone, contribution is OK again and again. We take video with camera and smartphone, and let's post from SNS!
shiize campaign easy in night Otaru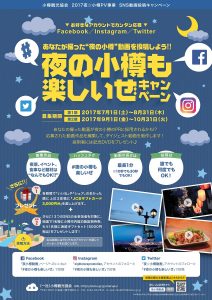 Is video which you took adopted for PR of night Otaru?
We edit video work subscribed for and produce digest video.
We present commemorative DVD to adopter! Besides, we prepare for privilege!
★In 3 contribution higher in each period in order that it was a lot of "it is good" and "share"
We present "JCB gift card 3,000 yen share"!
★Furthermore, targeting at all participants of three SNS by lot to one person "accommodations complimentary ticket in Otaru-shi!"
"Seafood gift set" (5,000 yen equivalency) is presented by another one person!
Offer period
[the

first

] It

was finished

for from Saturday, July 1, 2017 to Thursday, August 31.
[the

second

] From Friday, September 1, 2017 to Tuesday, October 31
The details and application method of campaign look at special site.
★Special site URL http://otaru.gr.jp/otarupv/
★Each SNS page
Facebook page "night Otaru video"
Instagram account "nightpotarupromotion"
Twitter account "night ☆ Otaru video"