It is news to Otaru citizen, company
Of Otaru tour guide map "more and yet more Otaru" for the next fiscal year in our association raise insertion on producing.
We produced Otaru tour guide map for information dispatch of Otaru in deeper layer to renew the entire surface by name of "Otaru than version more and yet more" in 2016, and to fix the eyes on the future of sightseeing in Otaru, and to be able to increase which we went to visit many times and repeated more. In addition, in late years we issued all page English notation and "Motto Motto Otaru" which we did 100,000 copies for foreign tourist who increased in this June.
Version issues 200,000 copies of maps for Japanese edition 800,000, English version 100,000 copies, foreign country in 2018.
Including sightseeing related facility in Otaru-shi, we perform distribution activity that targeted suburban Sapporo, Shiribeshi area and shipment to travel agency and individual tourist of in fun in way. As we prepare to utilize during trip before trip as information tool of visit, revisit to Otaru, please we would appreciate your examining purpose agreement mine, insertion of your facility (store).
Therefore, "Otaru tour guide map 2018 please give "Otaru advertisement offer essential point" looking over more and yet more" as enclosed.
※Because we reached the fixed number, offer was finished.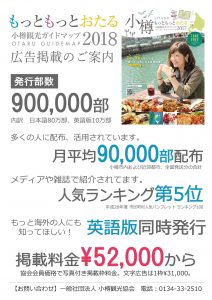 Tour guide map 2018 advertisement offer essential point (pdf file)
Explanation (pdf file) of insertion frame
Tour guide map publication application [Otaru Tourism Association member] pdf file, Word file
Tour guide map publication application [nonmember] pdf file, Word file
Contact information
General Otaru Tourism Association
〒047-0007 4-3, Minatomachi, Otaru-shi
TEL 0134-33-2510 FAX 0134-23-0522
E-mail info2007@otaru.gr.jp
Charge: Nagaoka, Yamada, Taniguchi