News from Tourism Association
[May 25 update] We were able to see Sakura from late April through mid-May in 2018.
As we compiled flowering information according to highlight spot, please see this page!
[April 30 update] Advance line of cherry blossoms is arriving at Hokkaido now. Hakodate became flowering on April 25.
It seems to become flowering that is earlier than average year nationwide.
It depends on future weather, temperature, but seems to be able to enjoy from the first half for the Golden Week!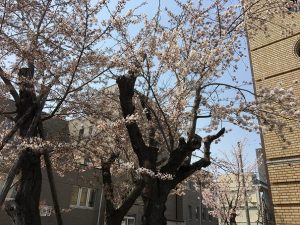 Photograph is Sakura in Otaru Police Station on April 29. At last Sakura considered to be benchmark tree of Sakura of Otaru was in full bloom.
※Cherry tree flowering information in the city improves by news from tourist information center at any time!
Reference>
・Cherry tree flower forecast special page (weather map offer) https://sakura.weathermap.jp/
・The Meteorological Agency
Cherry tree flowering situation http://www.data.jma.go.jp/sakura/data/sakura_kaika.html of the whole country
Cherry tree full bloom situation http://www.data.jma.go.jp/sakura/data/sakura_mankai.html of the whole country
In reference to "sakuramappu where you summarized the highlight in Otaru-shi in," do you not see cherry blossoms in the city?
Information including place to be able to drop in at immediately from park, tourist attraction with an ocean view is varied!
・Information of Otaru-shi homepage, Sakura
https://www.city.otaru.lg.jp/kankou/osusume/sakura/
・Tourist information center blog "cherry tree information" ※We are updating at any time in 2018!