It is news to Otaru citizen, company
[Otaru tide Festival] About flight self-restraints such as drones in traffic regulation and meeting place
2017.07.08
Please cooperate with traffic regulation including new suspension of traffic section about flight self-restraints such as drones in meeting place.
During tide Festival period, city center is crowded very much. As there is not parking lot in meeting place, please use public transport on arrival.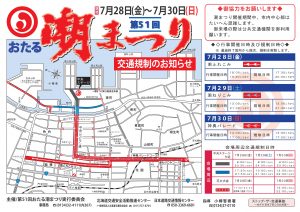 ●About new suspension of traffic section
For ensuring safety of festival participant, we do the following sections newly No thoroughfare from this year.
We cause citizen's all of you and all of companies trouble very much, but I would like understanding of and cooperation so that it is festival of security, reliable midsummer.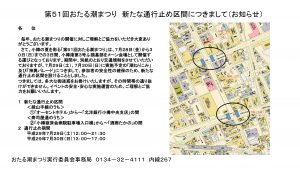 <authority of Asakusa>
... Hokuyo Bank Otaru center Branch in front of O Saint hotel
<authority of sushi bar>
Otaru liquid finished society Hospital - liquor dealer Takano
<suspension of traffic period>
Saturday, July 29, 2017 tide Nerikomi conduct from 12:00 to 21:30
Sunday, July 30, 2017 miniature shrine parade conduct time from 13:00 to 17:00
●About flight self-restraints such as drones
As for the flight of small unmanned aircraft (drone), I would like flight self-restraint in Otaru tide Festival meeting place and the outskirts and each course of tide announcement, tide Nerikomi, miniature shrine parade to hurt participant and the audience by falls. Similarly, please restrain yourself from flights such as small radio control copters.
I would like cooperation of all of you to become festival of delightful midsummer by security.
[inquiry about description of top contents]
Otaru tide Festival executive committee
Telephone: 0134-32-4111 (extension number 266 .267)
Website http://otaru.ushiomatsuri.net/